Finding the silver linings in a bad situation at work
Productive meetings
Good talks
Lots of attention and affection this week
Bonding with friends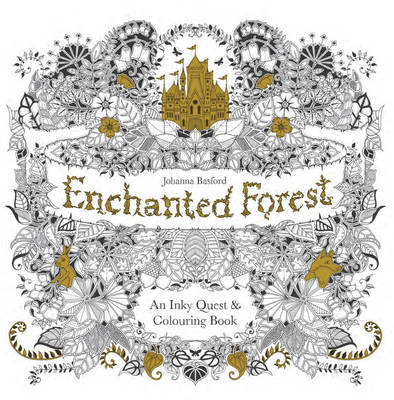 Bought the Enchanted Forest – was skeptical at first, but have to admit after only a day I'm in love with  it. It's just beautiful, and almost hypnotising to look at. It makes me feel calm just flicking through the pages.
Along with that, I bought Crayola supertips, because they were in the shop and looked pretty. So far, although they're doing the job I'm a little underwhelmed as the colours aren't the same as the colours on the lid, they're like faded, weaker versions. No big deal because they still do the job and the colours are pretty in their own right, but I just wanted something a little more vivid.

I also own Stabilo fineliners, Staedter fineliners, Staedter watercolour pencils, and  Derwent inktense watercolour pencils, so will try them all out and see which set I prefer. I haven't tried out bleeding through pages yet, but so far the paper feels really thick and good quality, so hoping it'll hold up.
I decided I need to take account of my time and actions more so figured I need to get back into bullet journaling, and this time, do it properly. So I've just started over, written down some ideas, used some ideas from Boho Berry, and am on my way. Need to keep it up, as I find time just slips away and I've no idea what happened or why I wasted it without it. So far I just spent the weekend with the kids and cleaning so not very adventurous, but at least I got things done.
While deciding to bullet journal again, I remembered I had a mantra for this year. Make the effort. I got the idea from Grethin Rubin's post about one worded themes, but figured this fit me better this year. Last year's words were decorate now, because I wanted to fix the flat up, make my life more interesting and add colour and adornments to my life. Plus I'm a huge procrastinator. Have put off decorating for years, put off doing things, everything is 'later', which never arrives. Those words in the back of my mind helped me to read more, make the effort to message people more, go out more, decorate and do things myself rather than waiting for the perfect time.
Now, I've got used to doing things, so I need to up my game and make the effort to connect with people, do the things I need to in order to reach my goals, learn new skills, and be more self disciplined. Need to make the effort to see the kids, make new meals, have friends over, make connections, do better at work, dress in something other than jeans and trainers. Make the effort in all areas of my life.